Partner with Enrich
You can be a changemaker by supporting financial inclusion in Hong Kong
Why Partner With Us?
Together we can build a more inclusive Hong Kong for migrant domestic workers.
We believe that financial literacy is the solution for migrant domestic workers who are particularly vulnerable to financial struggles, scams and exploitation in Hong Kong. Financial education has the ability to empower not just migrant domestic workers, but their families and communities as well.
Engagement

Enable your employees to create a more inclusive city using their professional expertise.

Be a thought leader

Play a key role in promoting the importance of financial literacy.

Give back

Many of your employees are also employers. Empower them to give back to those who enable them to come in to work every day.
Become a Corporate Partner
30+ corporates in various industries
Since 2007, we have worked with 30+ corporates in various industries, such as CLSA, Macquarie, KPMG and King & Wood Mallesons. Our experienced team will ensure a partnership with Enrich is engaging, motivating and rewarding for all involved. We offer tailor-made partnerships for various industries and levels of engagement. To find out about working together, please contact us.
"Powerful, well-intentioned and well-run program"
a Volunteer Corporate Mentor
Our Impact
"I learned a lot like being more mindful about spending money even on petty expenses."
Impact is very important to us and we constantly evaluate our programmes. Research shows that our workshops have a life-changing impact on migrant domestic workers' financial knowledge, behaviour and confidence.
More about Our Impact
programme participants since 2007
Become a Programme Partner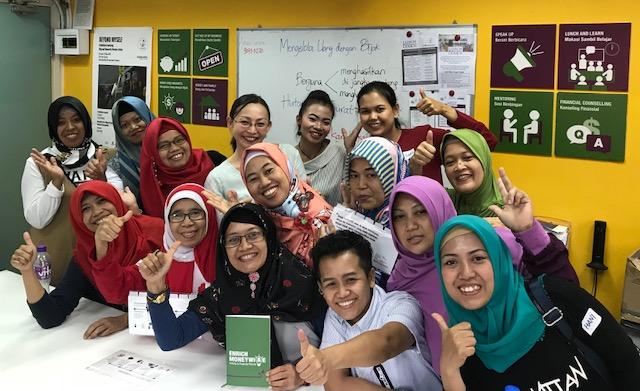 We believe in collaboration! We work with a wide range of programme partners in order to reach more migrant domestic workers with life-changing financial and empowerment education. Contact us to find out more.