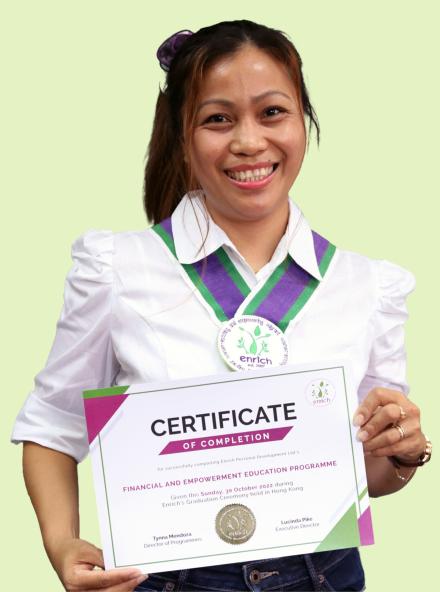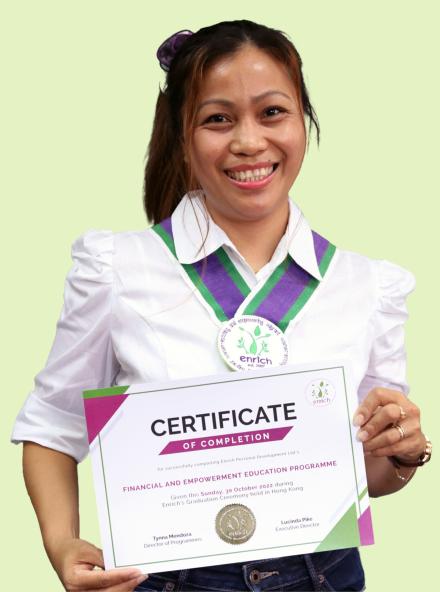 Maria Reyna Astellero
Hometown
Years in HK
Pangasinan, Philippines
20 years
About Her
Loves baking, cooking, and engaging in physical activities
Favourite Enrich Workshops
One of my favourite quotes by Antoine de Saint-Exupery, the author of The Little Prince, is "A goal without a plan is just a wish," and this quote perfectly captures my 12 weeks of learning through Enrich's Financial Mentoring Programme.
Through this program, I had the opportunity to work with a knowledgeable and experienced mentor, Mr. Humberto Fernandes, who helped me gain a deep understanding of the foundations of financial goal setting. With his guidance, I developed a solid plan to start a snack house and cake business in the Philippines upon my eventual return home.
Mr. Humberto taught me the importance of self-discipline, creating a plan of action, and maintaining focus on my goals. I also acquired valuable knowledge about shares and stocks, corporate bonds, investments, and other aspects of the financial world that I had never encountered before.
I was fortunate to have Mr. Humberto, both as my mentor and a "KUYA" (older brother). With his encouragement, I was able to start paying my Pag-IBIG membership and save through Pag-IBIG MP2, which will eventually help me realise the dream of owning a small business. 

The Enrich Financial Mentoring Programme has been a life-changing experience for me and I feel confident now in managing my finances and taking bold and concrete steps to achieve my personal and financial goals.

Thank you Enrich FAMILY for helping domestic helpers like me (and our families too!) on how to manage our finances and get us prepared when it's time to go home for good.