Celebrating Enrich's 14th Birthday: #BecauseIAmMoneyWise campaign
2021-07-13
June is always a special month for Enrich because it's our birthday! To celebrate turning 14, we turned the spotlight to our participants in our 'Because I Am Money Wise' campaign. Our Enrich graduates shared inspiring stories of navigating the challenges brought on by the Covid-19 pandemic, thanks to the power of financial literacy! Read about their amazing achievements!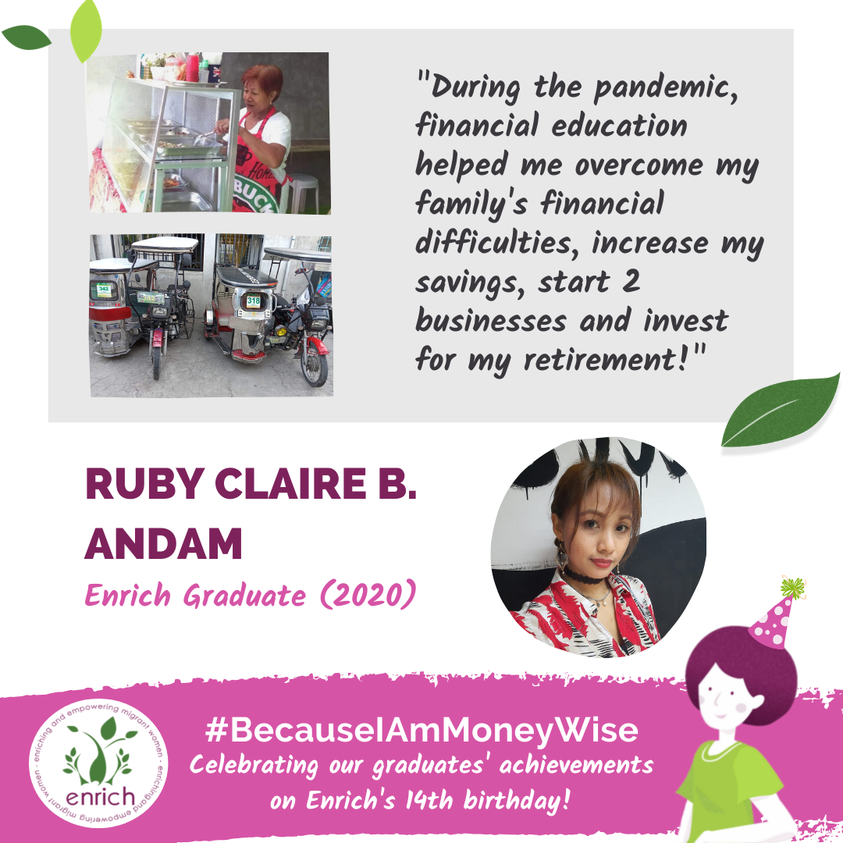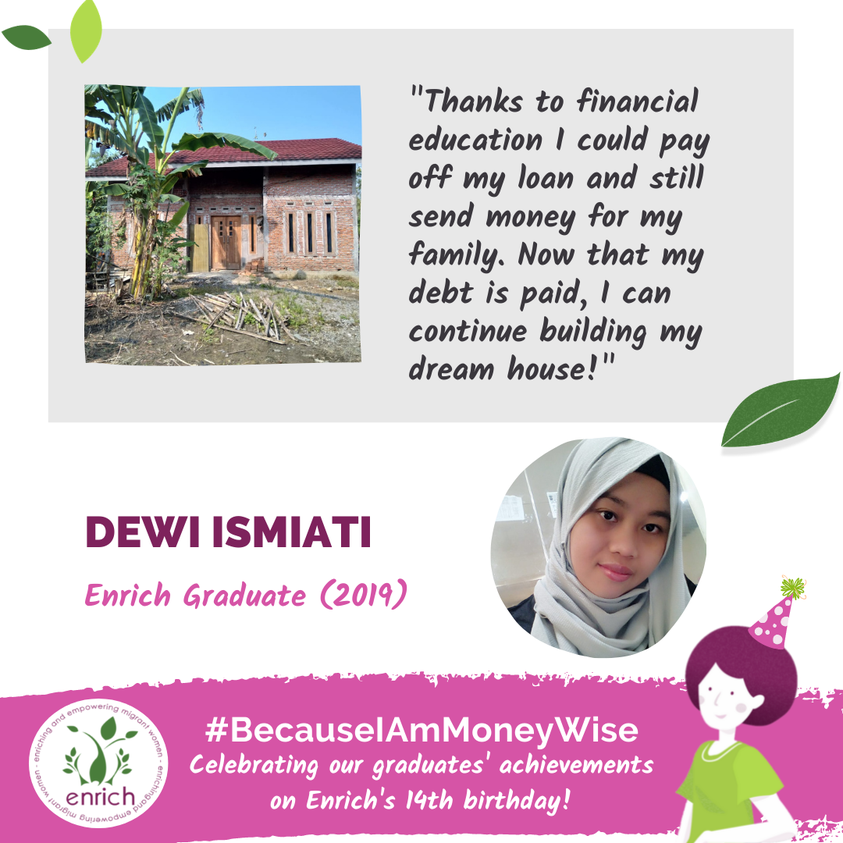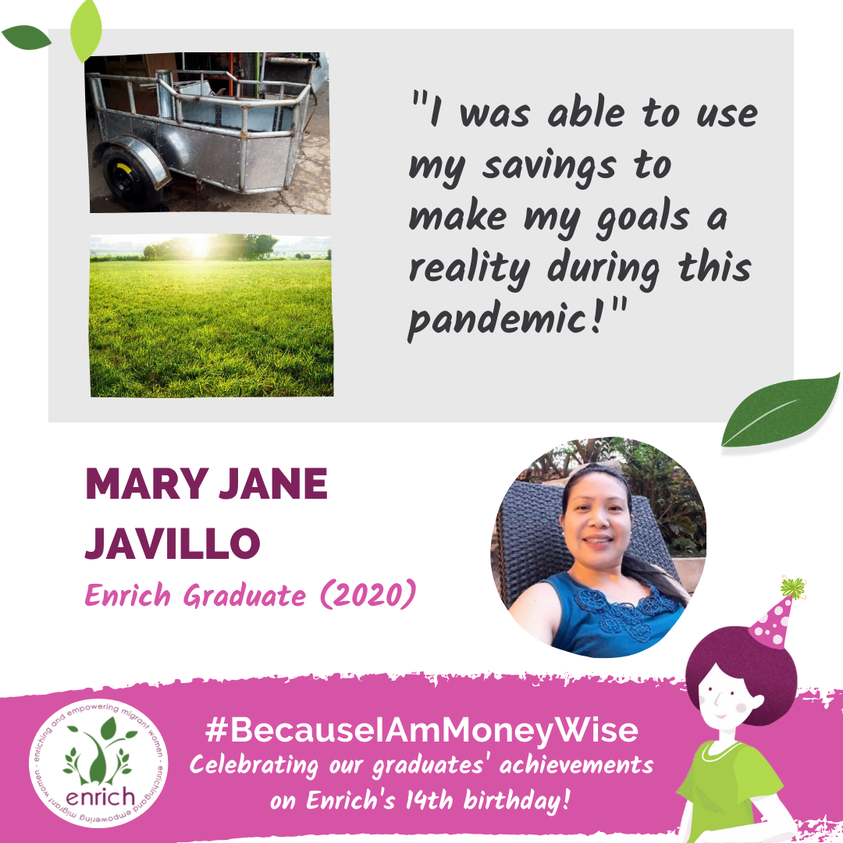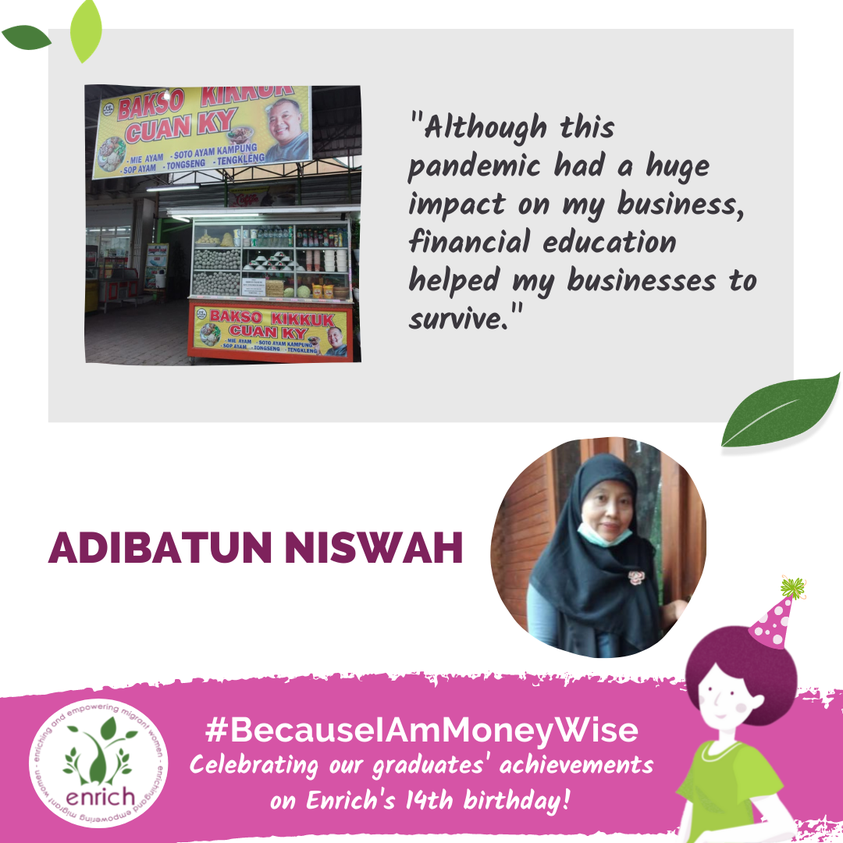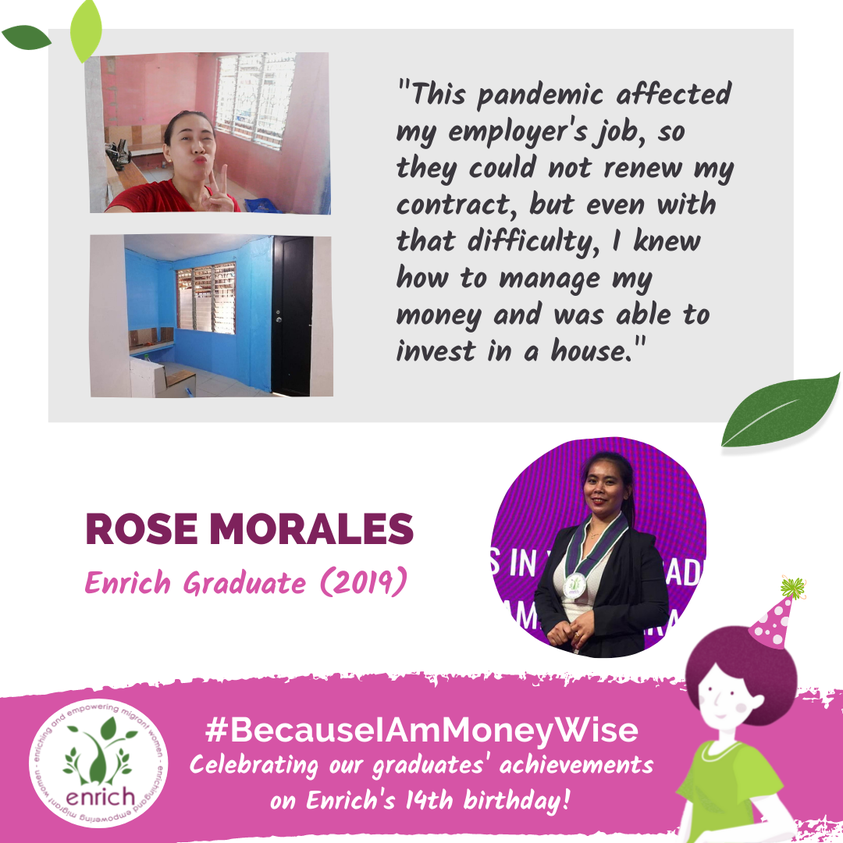 The Covid-19 pandemic has brought unprecedented challenges for all of us, including migrant domestic workers. From a survey we recently published in partnership with HelperChoice, we found that 69% of migrant domestic workers in Hong Kong have been financially affected by the pandemic, impacting themselves and their families too.
We know that the ability to confidently manage financial insecurity has never been more important, and so we checked in with some of our graduates to find out how they've been dealing with the challenges - they've blown us away with their achievements! What better way to celebrate our birthday than by sharing their incredible stories with you? Here are 5 of our graduates, sharing how financial education has helped them during the pandemic, as part of our 'Because I am Money Wise' campaign. We hope you are as inspired as we are!
Overcoming family financial difficulties to achieve financial freedom
"I've been in HK for 8 years and graduated from Enrich in February 2020. During the pandemic, my husband couldn't work due to lockdown, so I had to cover all their daily expenses, including my mother's medicines. I struggled to save because my monthly remittance was higher than before. Financial and empowerment education helped me manage my money better, especially during that time. I learned how to allocate my budget properly and that I need to save money first before I spend it. I shared to my family what I learnt in Enrich - I told them about my goals and taught them to budget. In March 2021, I bought a tricycle so that my husband can get daily income to cover his and my son's expenses. I also gave money to my mother to start her small business (a food stall) and her income can cover her daily expenses and medical expenses, so I don't need to send money every month. Now, my remittance is getting lower compared to last year! I can save more money and I am also able to actively invest and save for my retirement plan. Thank you very much Enrich, you played a big role in achieving my financial freedom." - Ruby Claire B. Andam, Enrich Graduate (2020)
Becoming debt-free and working towards future dreams
"I have been in Hong Kong for 7 years and graduated from Enrich in 2019. These last 2 months, I had difficulty with my finances because some of my family members are unemployed. Everything is getting more expensive and my family members have to buy the groceries since they don't have any harvest. It's also difficult because I have frequent  misunderstandings with my family. What made it harder was that I had a loan, but I am proud that this month, I have finished paying it off! Even with all the difficulty, I can face it and pay for my debt on time by using what I learned from Enrich. I was able to manage my finances and also continue sending the remittance to Indonesia. My goal is to build a house. I started building it but I had to pause it while I paid my debt - now that it's fully paid, I can continue with my goal!" (Translated from Bahasa Indonesia) - Dewi Ismiati, Enrich Graduate (2019)
Making goals a reality, despite financial challenges
"I am Mary Jane Javillo. I've been working here in Hong Kong for almost 7 years and I graduated from Enrich HK in July 2020. I've been financially challenged during the pandemic in regards of my family finances. Because of this pandemic my husband earned less and I needed to send more than the usual allowance we've agreed upon. This affects our goals set for this coming years. But despite of this uncertainty, I would like to thank my employer for introducing Enrich and sponsoring me to attend the workshops. It really helps me and guides me to achieve my goals little by little. I would say that this pandemic is a blessing in disguise, because I used my savings to make my goals a reality. We started to build our house, but it is not yet fully done. I also purchased a residential lot and it will be fully paid by October this year. I also purchased a motorcycle with side car to use for our rice retailer delivery business which really starts this June. Enrich is a big help with my finances. I'm so truly thankful and grateful that my employer introduced them to me." - Mary Jane Javillo, Enrich Graduate (2020)
Navigating through business hardships
"It's been 6 months for me to be in Indonesia after working in Hong Kong for 10 years. I have several businesses, such as a restaurant, a shop, and a tombstone business. This pandemic affected my businesses a lot, especially the restaurant and the shop, since the shop sells snacks for tourists and there are less tourists. The income decreased until 50%. However, the financial education that Enrich taught us helped me survive in this situation. I worked hard to make my businesses stand out. The restaurant that I have built is quite popular because I use a big board as the sign of my restaurant, so it looks trustworthy. Other than that, my husband also promotes it online. I also provide free WiFi for the guests from other cities." (Translated from Bahasa Indonesia) - Adibatun Niswah, Enrich Graduate (2019)
Maintaining financial security despite employment insecurity
"I graduated last March 2019. This pandemic really had a huge impact for all of us, including my previous employer. Therefore, they didn't renew my contract. However, because of the financial education that I had, I was still able to use my money to invest. I can reach one of my goals, buying a house to be rented. I bought a house and finished the renovation last April and it is already rented now. I used the additional income for savings, to support my daughter and my parents. Previously, I used all my salary to send the remittances and to buy what I want. Therefore, I have no savings at all. But now, after receiving financial education, I changed my habit in spending my salary. After receiving the salary, I save some first, then I send my remittance and buy what I need. The rest of it, I save it again." - Rose Morales, Enrich Graduate (2019)
Get involved
Other Stories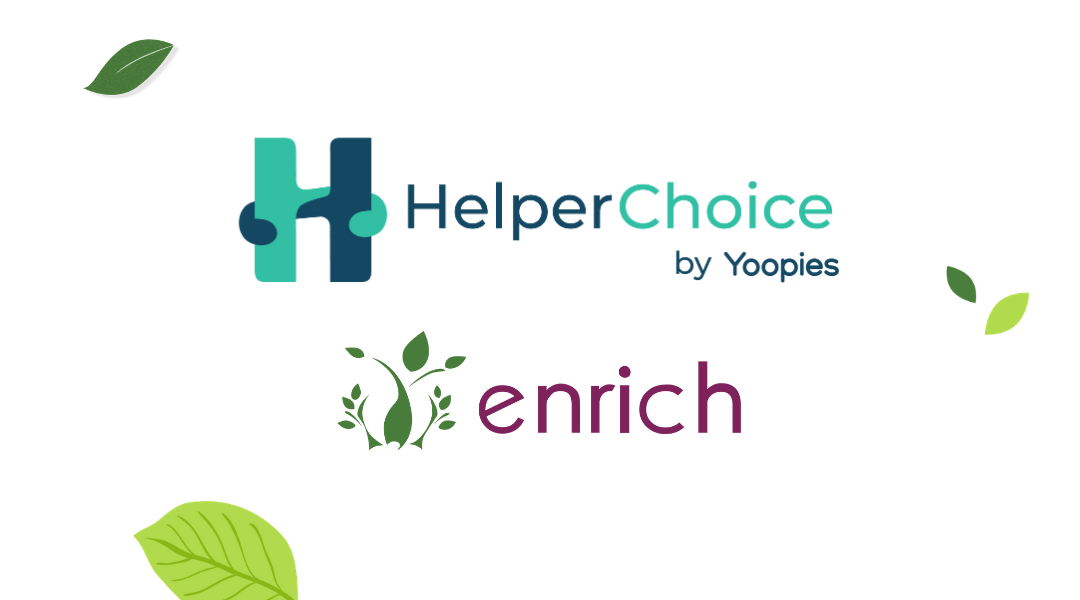 Enrich News, Programmes, COVID-19 response