[Webinar] She-cession to She-covery: how to ensure domestic workers are not left behind.
2021-11-12
As we recover from the impact of this pandemic, how can we ensure that Hong Kong's migrant domestic workers are included? What role can individuals, communities, corporates and foundations play? Read on to find out about our upcoming event, showcasing a diverse panel of change makers!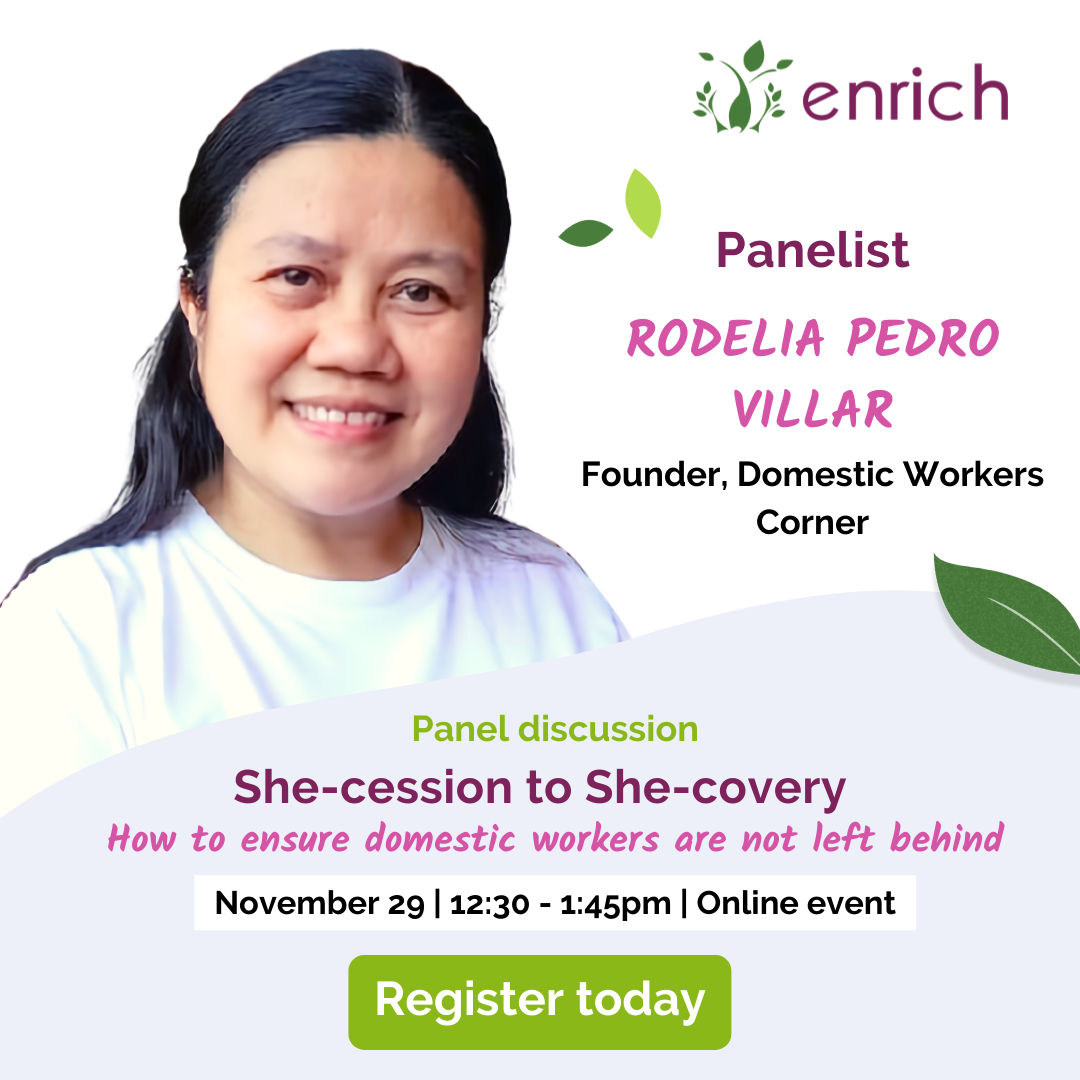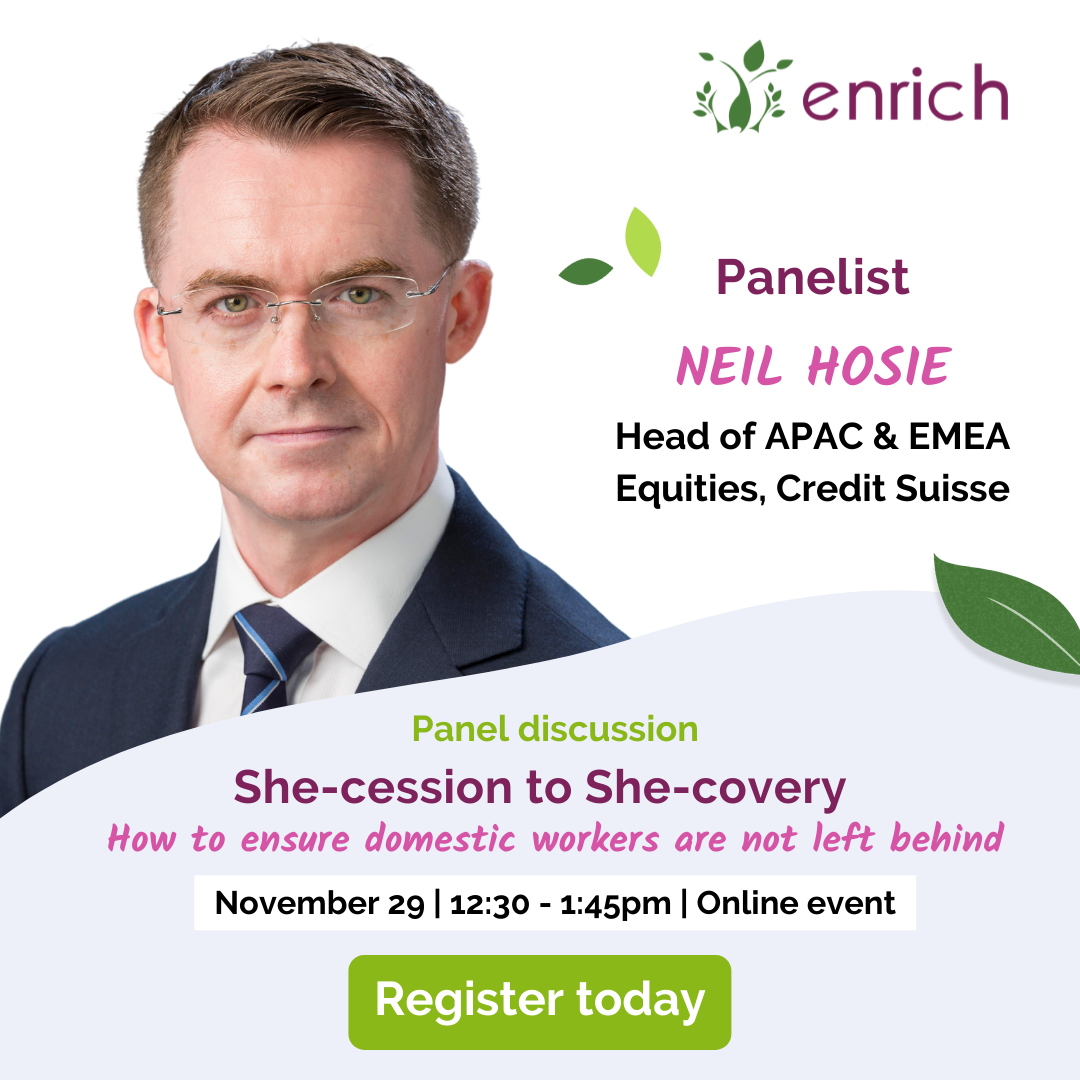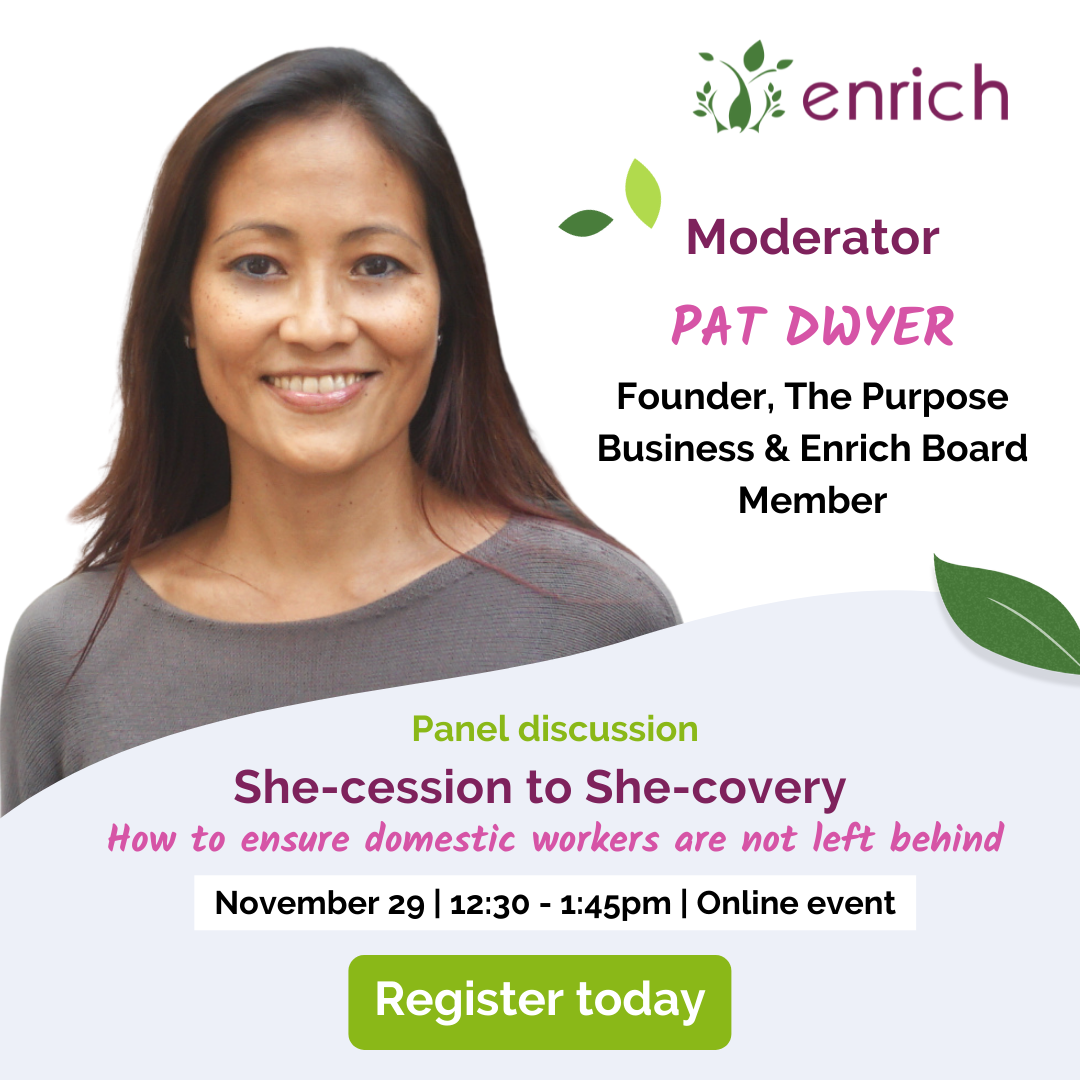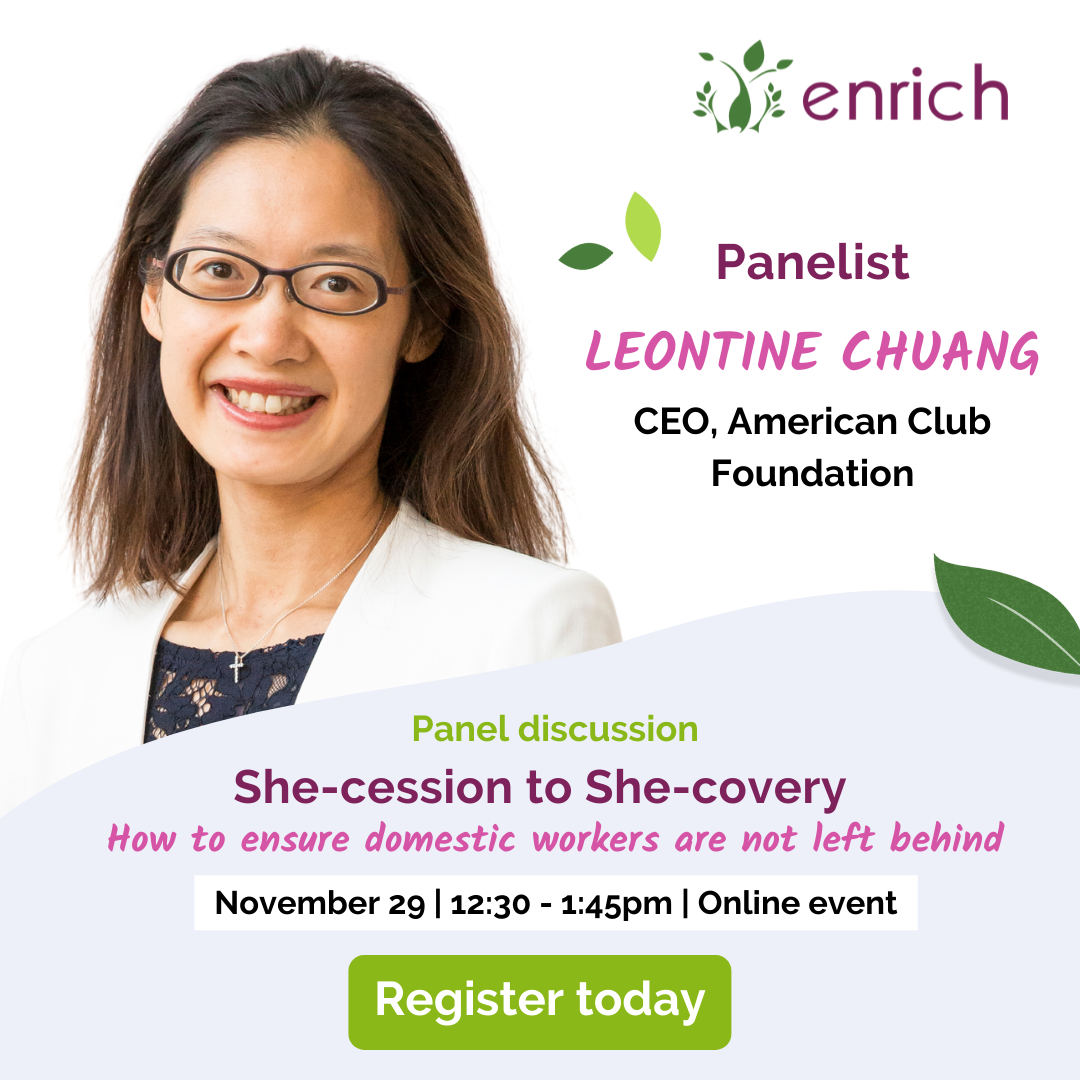 The Covid-induced recession is having a greater impact on women globally with some pundits coining it a "she-cession". The impact has been acutely felt by Hong Kong's migrant domestic worker community, 98% of whom are women. With a complex web of challenges, our domestic workers have been disproportionately impacted by heightened job insecurity, family pressures, financial stressors and mental health concerns.
What will it take to make sure that the women caring for us and our loved ones can not just survive, but thrive despite these challenges? How can we ensure that the road to recovery includes them?
A more inclusive "she-covery" will require new thinking, approaches, and voices. Join us on November 29 to hear from a diverse panel of change makers who are using their personal platforms to amplify and empower the domestic worker community during this time of crisis. Be inspired by their journeys and find out how you too can take action today!
Meet the panelists
Rodelia Pedro, Founder, Domestic Workers Corner 
Rodelia has been at the forefront of crisis support for migrant domestic workers during the pandemic. Leveraging the power of her Facebook group, Rodelia has mobilised NGOs to better support the domestic worker community, organising webinars (supported by the Philippine Consulate) to provide reliable information, providing supplies for workers in quarantine, running an emergency hotline for workers in need - and so much more!
More about Rodelia
Rodelia is a migrant domestic worker living in Hong Kong for 19 years. She is originally from Antique, Philippines. She has a Bachelor of Science in Hotel and Restaurant Management. Rodelia started serving the community at the Immaculate Heart of Mary Parish as a Sunday School Teacher and Help Desk committee.
In 2017, she founded the  online Facebook Page  "Domestic Workers Corner"  where she and other administrators help migrant domestic workers in need and refer them to Government and Non- Government Organizations for further assistance. Rodelia was awarded the Spirit of Hong Kong 2020 Lion Rock People's Choice Award for those who represent the can-do, kind and go-getting Hong Kong spirit.
Leontine Chuang, CEO, American Club Foundation
As the CEO of the American Club Foundation, Leontine spearheaded efforts with other pillars of the American Community in Hong Kong to raise HK$4,000,000 for the Hong Kong Community Recovery Fund (HKCRF),which gave out grants to NGOs during the height of Covid-19. HKCRF provided essential funding to 12 local NGOs, including 2 charities serving migrant domestic workers. She is also a strong believer in the long-term impact of education.
More about Leontine
Leontine Chuang is the Chief Executive Officer of the American Club Foundation. She also currently serves as a Governor of the Lee Hysan Foundation, a charitable foundation in Hong Kong funding projects in numerous sectors for the benefit of Hong Kong. Prior to joining the American Club Foundation, Leontine served as the Director for Hong Kong of an international non-profit, PILnet and prior to that she spent ten years with the United Nations High Commissioner for Refugees, rotating through posts in both the Protection Unit and the Resettlement Unit. Leontine started her career as a corporate lawyer for the law firm Simpson Thacher & Bartlett LLP focusing on capital markets and private equity work in their New York and Hong Kong offices. 
Neil Hosie, 

Head of APAC & EMEA Equities, Credit Suisse
Since 2018, Neil has been championing the migrant domestic worker community within Credit Suisse, mobilising and inspiring his Equities team to volunteer and organise countless fundraising initiatives. He is passionate about financial literacy and skills-based volunteering as a mutually beneficial way to build a more inclusive society.
More about Neil
Neil Hosie is Head of APAC & EMEA Equities, based in Hong Kong. He is the Senior Manager for all Equities and Securities Research activities undertaken in our UK entities. Mr. Hosie joined Credit Suisse in July 2017 as Head of APAC Equities from Deutsche Bank, Mr. Hosie has over 20 years' experience in Asian Equities across cash trading, sales trading, electronic trading and agency program business as well as facilitation, risk and dealing across the region. Moved to Hong Kong in 2002, Mr. Hosie is an expert in Asian equities and sits on the board of a number of our Asian securities entities and speaks conversational Cantonese.
Pat Dwyer (moderator)
Pat is the Founder of The Purpose Business based in Hong Kong. She has over 20 years sustainability leadership experience and is a regular speaker on purpose and leadership, responsible business and empowering women in Asia. Pat sits on the board of Enrich, working with the board on communications and strategy.
Other Stories