[Survey] 69% of domestic workers in Hong Kong are financially affected by Covid-19
Enrich News
COVID-19 response
2021-06-16
On International Domestic Workers Day 2021, Enrich HK and HelperChoice are shedding light on the financial challenges of migrant domestic workers in Hong Kong, particularly since the beginning of the Covid-19 pandemic. We surveyed 814 migrant domestic workers in Hong Kong to learn more - here's a summary of our key findings!
Enrich HK teamed up with ethical employment platform, HelperChoice, to survey domestic workers online from May 16 - June 10, 2021. The survey was circulated via social media in English, Tagalog and Bahasa Indonesia, garnering 814 responses.
Note: This article represents a summary of key findings. For a full list of findings, or for media enquiries, please view the press release.
Covid-19 impact on domestic workers' finances
The Covid-19 pandemic has had a global impact since 2020, and has impacted Hong Kong's migrant domestic workers in particular. With employers losing jobs, facing financial struggles or even relocating, as well as with lockdowns or job losses in workers' home countries, domestic workers have been directly affected.
69% of the 814 domestic worker respondents reported being financially affected by the Covid-19 pandemic

, facing one or several difficulties. Of that, 43% domestic workers declared having greater expenses, and / or have been sending higher remittances to support families back home

61% reported feeling more stressed about their finances as a result of the pandemic.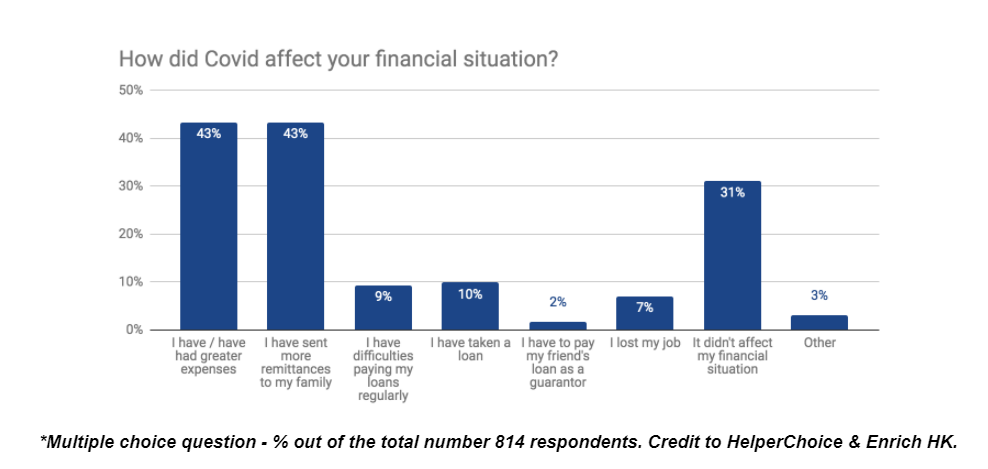 High fees charged at recruitment
Although the Covid-19 pandemic has exacerbated migrant domestic workers' financial difficulties, for many of them, this has been a pre-pandemic issue, often starting with high recruitment costs.
74% reported paying an agency to find a job.

48% of migrant domestic workers appear to have been charged over 10% of their salary during the recruitment process. 

6% of workers report paying up to 6 months salary or more than HK$28,000 for recruitment

 
Levels of indebtedness
While it is clear that high employment costs increase financial pressures for domestic workers, this is often further complicated by other stressors, resulting in domestic workers needing to borrow money. 
58% of the 814 domestic workers declared having taken a loan, with the most common reasons for borrowing money being for emergencies (31%) and construction/housing projects (32%).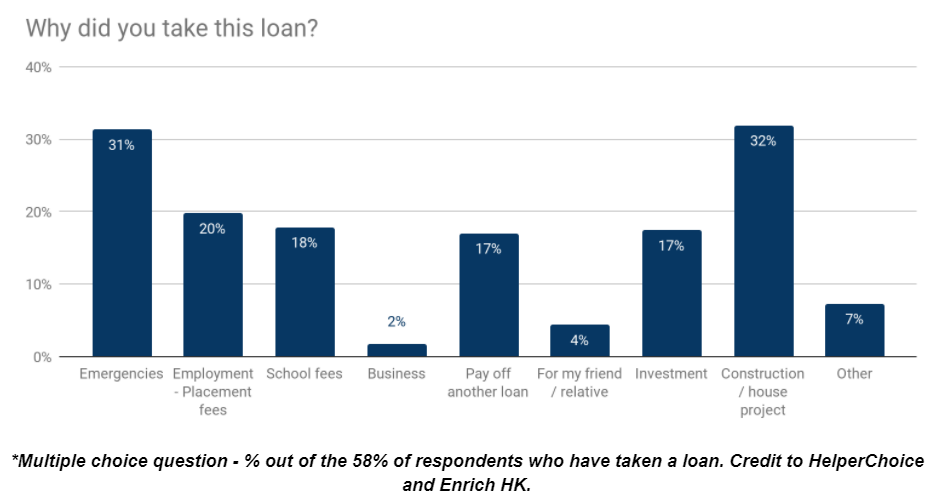 The findings also reveal the enormous pressure on domestic workers to meet monthly loan repayments.
Out of the 58% of respondents who have taken a loan:
73% claimed to have taken loans from loan agencies. 

34% reported paying between HK$2000 - HK$4000 in monthly installments for their debt repayments

A staggering 21% pay over HK$4000 in monthly repayments. Given that the minimum legal wage for migrant domestic workers in Hong Kong is HK$4,630 per month, this is a cause for grave concern.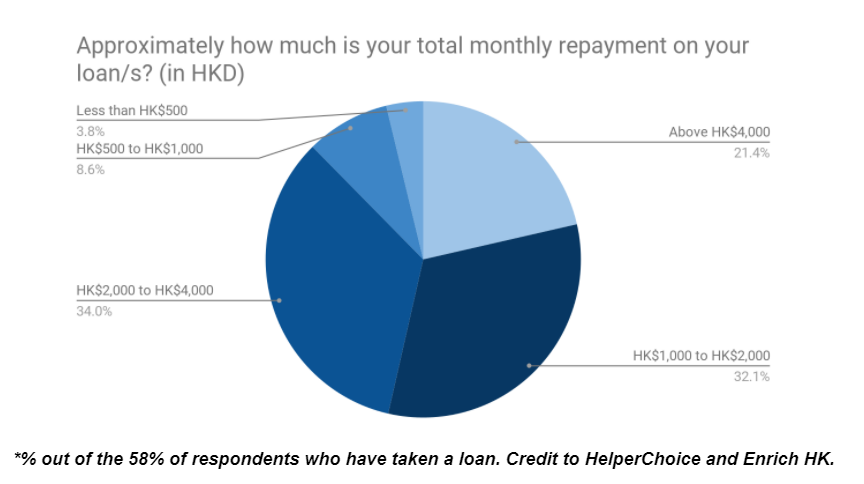 High interest rates charged
Unfortunately, the results show a trend of charging the domestic worker community extremely high interest rates.
Out of the 58% of respondents who have taken a loan:
25% said they were charged interest of between 2%-4% per month (effectively 44.3% to 88.6% per annum). 

A shocking 11% believe they were charged over 4% per month (over 88.6% per annum). 

20% did not actually know what monthly interest rates they were being charged, 
Note: the maximum legal annual interest rate in Hong Kong is currently up to 48% per annum, though money lenders can legally charge up to 60% per annum under certain circumstances. 
Additionally, 30% of respondents reported signing as a guarantor for someone else's loan. 
The way forward
At Enrich, we know that these financial challenges have existed long before but have been severely exacerbated by the Covid-19 pandemic, especially for this community who have been disproportionately impacted and have no safety nets. While some of these findings are shocking, we believe that they emphasize the need for greater education on financial management, empowering domestic workers to make informed decisions, withstand pressures and protect themselves.
With 61% of domestic workers reporting feeling more stressed by finances, as a result of the Covid-19 pandemic, it is also important for employers to work together with their domestic workers to ensure that they receive access to education and support. 
Financial and empowerment education is a life-changing solution, which can create a mutually beneficial employment relationship. A domestic worker who is financially secure is happier and more confident; she can plan and save for her future, and will also be able to focus on caring for our loved ones.
Other Stories